In my previous blog about Brian Leathem becoming the RichFaces project lead, I mentioned that the release of RichFaces 4.1 is imminent. It is not longer imminent, but upon us!
I'm very happy to say that today Brian announced the release of RichFaces 4.1.0.Final!! This is a great release for RichFace and JSF, please take a look at Brian's blog for all the details, and keep an eye out for some follow up blogs highlighting the new features!
The release of RichFaces 4.1 is imminent and with it brings some great advancements to the project and JSF! Among the most notable are additional mobile support, push upgrades, new components, and more.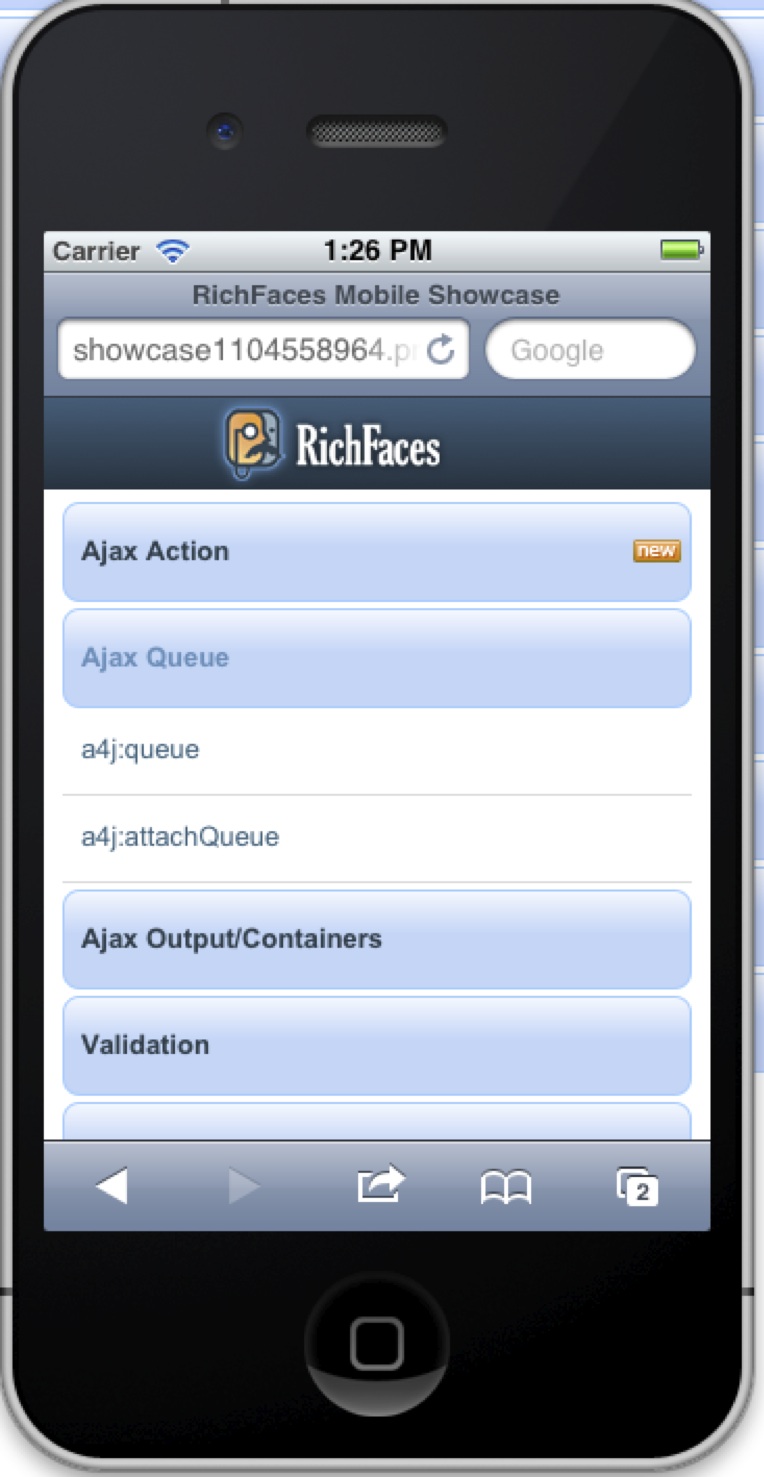 Recently however, I've been focusing on more general mobile and HTML5 initiatives. You can see some of what I've been up to in the webinar I had Wednesday Dec. 7th on getting started with HTML5/Mobile development with JBoss (recording will be available soon).
This has meant that I've not had the time to dedicate to RichFaces that it deserves, and so I'm thrilled that we have an engineer and leader like Brian Leathem who has agreed to lead the project into the future!! He is already the seam-faces project lead, and has been a critical member of the RichFaces for some time!

Brian and the rest of the RichFaces team have not only done a great job on RichFaces 4.1, but also have some great plans for the future of RichFaces. Brian has started to outline these to start the discussions. This is only going to pick up steam once 4.1 is out!!
I'm not just going to disappear though, mobile and HTML5 are certainly an integral part of RichFaces! Keep an eye out in this space for more from me and JBoss about all aspects of mobile application development including mobile web, hybrid, and native techniques.
I wanted to take a moment and thank the RichFaces team and community! I'm could not be more proud of the people that use and develop RichFaces. Through our forums, weekly meetings, and now github we've seen a huge increase in contributors, users, and colleagues. To all of you: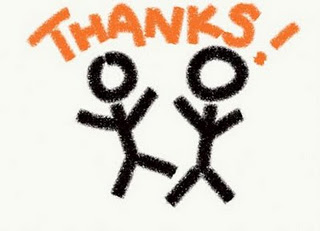 The JBoss World opening Keynote featured one of the best keynote demonstrations I've ever seen!! Part of that demonstration included a RichFaces application customized for the mobile web call TweetStream. We are going to talk about that app, why it works so well for mobile web development, and how you can get it running on your machine.
The entire JBoss World demonstration included many JBoss projects; such as JBoss AS, Infinispan, Hibernate OGM, CDI, and Errai. A video of the keynote & demo is available through the image on the left. The demo starts around 35:15 minutes in. And yes that WAS my real iPad/iPhone password :-)
The latest JBoss Assylum also features many of the developers giving behind the scenes perspective and humor. Each project will be providing blogs and code for its own part. You can get the latest at the JBoss World Keynote 2011 landing page, and follow along with the #jbwkeynote2011 twitter hashtag!
Wesley Hales and I were looking for an application to show RichFaces 4 on mobile devices for our JUDCon presentation: Filling the Gap: Going Mobile With JBoss Technologies Today. We came up with a simple idea that would be instantly recognizable, allow audience participation, and with just enough UI complexity. It was around this time that JBoss Keynote was being planned, and TweetStream just fit right in!
TweetStream uses twitter4j to search and filter a stream of tweets containing a set of hashtags, and displays them to the user. It also keeps track and calculates the top 10 tweeters, and the top 10 hashtags. It then uses RichFaces Push to keep the UI updated with the latest content across devices.
In front of this Wesley and I built a set of RichFaces 4 views that provide advanced support for different mobile devices. We targeted webkit browsers that run on iPhones, iPads, BlackBerry, and Android devices. Each view is served through a single URL with device detection for a one bookmark solution. We achieved near native behavior using advanced HTML5/CSS3 techniques to process orientation layout changes, transitions, and more.
If you just can't wait to check out the demo on your own machine we have a version of it hosted on RedHat's OpenShift just follow this link http://bit.ly/tweetstream2. The Filling The Gap presentation was also recorded and contains Wesley and I discussing some of the apps details.
Instead of just explaining the various parts all up front lets just jump right into getting the source code, building it, deploying to JBoss AS and integrating it into JBoss Tools. We'll discuss some of the internals below, or is follow up blogs.
note: I'm assuming you have git, Maven, Java 1.6, JBoss AS 6 Final, and JBoss Tools 3.2 for IDE integration
The TweetStream source code is part the RichFaces organization on github.com. You can use git to clone the repo with: git clone git@github.com:richfaces/tweetstream.git. We'll talk about the structure after we get it running.
While we would love to let you use our twitter account credentials, that would not be so good. This means that you'll need to go through the steps outlined in the README to get twitter4j setup.
Twitter has a good step by step process for this on there OAuth page. Once you go through that you'll be able to update the twitter4j.properties file with these values:
oauth.consumerKey=**************************
oauth.consumerSecret=**************************
oauth.accessToken=**************************
oauth.accessTokenSecret=**************************
Once that's done all that is left is deploying the application!
In the base /tweetstream directory run mvn package to build the standalone version of the application. You should now have the file /tweetstream/target/tweetstream.war. Copy this file to the $JBOSS_HOME/server/default/deploy directory.
At this point your can start the server, but I would recommend you start with the $JBOSS_HOME/bin/run.sh -b 0.0.0.0 if you want to access the server from external clients, like your mobile phone ;-)
Once the application starts up you can see it at http://localhost:8080/tweetstream. If you want to try out your smartphone or tablet you may need to modify you firewall to allow port 8080 through. Then access using your tablet, or phone at http://your.ip:8080/tweetstream.
Importing this project into JBoss Tools 3.2 is easy because it uses m2eclipse under the covers. All you need to do is choose File-->Import-->Existing Maven Project, and point it to where you cloned the source code. Eclipse will run through it's normal project import, and in a few minutes have the new project ready to go.
A couple of things to note:
Add your JBoss AS 6 server as normal and you can configure TweetStream to be deployed
You may see build issues in the /jbw project - I'll explain that in a minute
Now that you have the application running, and hopefully imported into JBoss Tools lets talk about the structure and some of the key areas to look at.
As I alluded to above this application was originally just going to be for Wesley and my JUDCon talk. When it became part of the JBoss World Keynote demo we needed to support two different back-ends. We did this by using the power of CDI, and Maven to create two profiles. A standard profile for JUDCon, and a keynote version. Below is a brief explanation of the various modules:

/tweetstream  #Core application and views
/shared       #Classes files needed across the other two modules
/jbw          #Keynote specific source files to hook into the different backend
The build errors you get in eclipse for the /jbw directory is because of missing dependencies related to the keynote demo. At some point in the near future we'll be releasing the whole keynote demo, but for now Tweetstream is moduler enough to run on its own.
The way we were easily able to shift our backend so easily is a testament to not only JBoss, but to the Java EE as a whole. The pieces fit together well, and with CDI, and JSF we were able to swap in a completely different backend with very little effort.
As I said we'll be following up this blog with deep-dives into the various details, but for now, here are some things to take a look at:
We use a great little project called mobileESP to help us with device detection. It is a basic user-agent sniffer that we wrapped in a CDI bean to do our bidding in a class called UserAgentProcess.java. This could be swapped out for any of the other device detection libraries such as the WURLF API.
We take advantage of JSF 2.0 and facelets templating to provide a single point of access per view to act as a dispatcher for different devices. This provides a single bookmark and URL no matter what device you are accessing it from. You can review that in the home.xhtml
Using CSS 3 @media selectors makes this a breeze. We use this to great effect in for the tablet view. Always keeping the top tweeters, and top hashtags in the best location.
ipad.css - should be named tablet.css ;-)
Making the page handle the page transitions on smartphones was also easier than you'd think. You can review the details in the phoneHome.xhtml file.
TweetStream was developed quickly and with a singular goal in mind. There are some great opportunities for improvements, future RichFaces components, and more. I would like to encourage anyone who is interested to take look in more detail. Here are some possible ideas for improvements
Streamline device detection
Customizable search filters
Layout components to support transitions
RichFaces Mobile Skins
Combine, and compress CSS
Performance analysis and update
Drill-downs on tweets and tags
Flush out the desktop version
There are a lot more possibilities, fork it, play, and lets see what you can come up with!! We'll be standardizing and integrating some of these things into RichFaces, and other parts of JBoss so stay tuned!!
Wesley and I are going to post additional blogs and dig into some of the features just touched on above. All of this should give you a good starting point for your own mobile web application using RichFaces 4 and JBoss! Also, as I mentioned above there are going to be several more blogs related to the JBoss World Keynote demo that will detail Infinispan, Hibernate OGM, the plug computers and more!!
[JBW Keynote Page] [JBW Keynote Twitter] [JBW Asylum] [TweetStream Online] [TweetStream Git Repo] [RichFaces Twitter]
There is an important feature in RichFaces 4 that get documented at wiki recently and today I want to point you to that article. That article is related to Programmatic control of partial processing in RichFaces 4.
If you working with RichFaces 3.3.x and looking for the same info - do not ignore that page. It's written as comparison of 3.3.x and 4.x functionality so you will see RichFaces 3.3.x methods also!
Questions which are adressed in that article (for both RichFaces 3.3.x and 4.x) listed below. Again all the answers related to programmatical access to PartialViewContext and not just working at component/attributes level.
How to add component to set of execute'd ones.
How to add component to set of render'ed ones.
How to check if current request is Ajax request.
How to limit Ajax updates to just set of render'ed components excluding automatically rendered ones.
How to append JavaScript event handlers from server side
...more
So look through the article and let RichFaces team know about your experience of using all that stuff. And share your thoughts about anything still missing at User Forum.
---
[Get updates of my blogs in twitter]
The RichFaces team and community are happy to announce that RichFaces 4.0.0.Final has been released!! This was a huge effort, but the end result was well worth it. Without further ado, you can download the distribution from our project's download page, and check out our collection of getting started guides including Maven, non-Maven, Ant/Ivy, and GAE. Plus you can now give our components a test drive anytime at our Online Component Showcase demo.
For all the details of what went into this final release please review the jira release notes. We also have the final project release notes for the project available for review.
RichFaces 4 goes beyond simply supporting JavaServer Faces (JSF) 2. It has extended multiple areas of JSF, including usability, performance tuning, dynamic resources, skinning, and component development. This allows users to take full advantage of all the productivity enhancements of JSF 2. Some notable highlights include:
In previous blogs I've talk about about how open source communities really thrive on their community. I've talk about how CR releases can stand for "Community Required" because of how important it is to get that feedback. All I can say is that our community stepped up, and continue to impress! We've seen a huge increase in the feedback, and both veterans and new users giving RichFaces 4 a try and helping us to make it to this point.
There are too many to list out here, but you are all appreciated!! Although, I would like to remind everyone that the JBoss Community Recognition voting ends April 2nd. Please check out the candidates from our community and give them a vote!
Closely related to our community and the feedback we get from them, is our focus on testing. At RichFaces we have prided ourselves on the level of testing, and stability that we have achieved. A big part of that is because of the effort our guys put into it.
Test framework development highlights:
Total Number of Automated Tests: 2350. Multiply this by environment variables like JSF implementation, Application Server, and UI containers and the total number of complete automated tests go to : 2350 x 4 x 2 = 18, 800!! Plus we are adding to it all the time...
We really wanted to have a focus on complete and quality documentation that would be available to everyone. One of the guys on our team (Sean), really did a great job and focused on the documentation. We have also had some informative additions to our wiki page, and knowledge base from our community, and team.
We've got a whole stack of blogs, conference talks, and upcoming publications to keep you busy :-)
That is a wide open question. We're planning to start on a 4.1 version soon with shorter time-boxed release schedules. We'll be discussing this more on the developer forums and team meetings. This release will likely include a variety of new features such as; Mobile/Tablet specific components, HTML5 extensions, new components like the rich:editor and rich:growl and more. Please join in the discussion, and be part of the future of RichFaces!
In other areas of the project:
None of this is possible without you though! We want to hear from you, and if you find an issue, have comments or ideas please let us know through our forums, or our project jira. See our Project Calendar and the Meeting Information page for more details, agendas, and minutes if you want to get involved more!
[Project Site] [Downloads] [JIRA] [User Forums] [Design Forums] [RichFaces Twitter]
Now that RichFaces 4.0.0.Final is just a couple weeks away, we've had time to finalize our RichFaces Showcase and get it hosted up on Google App Engine (GAE)! Now you have a great way to explore all of the great RichFaces 4.0 components, and give them a try yourself (no login required). Plus we have all the instructions you need to get your own application running up on GAE. You can even host your own version of the RichFaces Showcase application!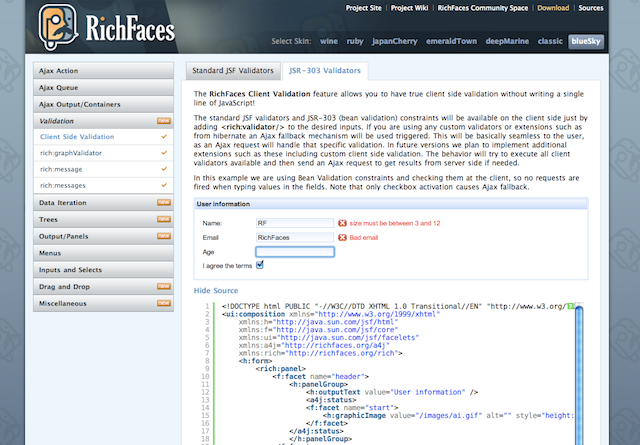 The showcase application is a gallery of RichFaces components that our project put together in order to demonstrate how to use the various tags available. This includes basic use cases, but also some more complex examples that have been asked about on our user forums. We've added enough information and source code to get you started quickly and you can access it anytime, so it is a great way to reference components.
The primary link to the hosted demo is http://richfaces.org/showcase, so go check it out today!
Anyone familiar with Google App Engine will know about quota's. We've configured the application with additional quota allowances and we'll see how it handles under load. We've run it through its paces, but nothing tests like the real world :-) If for some reason it is not accessible, or you get unexpected errors please let us know over at our user forums.
Once RichFaces 4.0.0.Final is released we have many plans for the showcase application. These include contextual linking to JavaDocs, components guide articles, etc…. We also want to add support for more devices such as phones, and tablets! We'll also be adding additional use-cases based on your feedback, and questions. The list could certainly keep going, but we would appreciate any ideas you have.
As I said we have put together all of the information needed to get started with RichFaces 4 and JSF 2 on GAE. It can be found at our wiki page How to use RichFaces 4.0 with Google App Engine. In there you will find:
Updates required for any JSF 2 application on GAE
Information on RichFaces maven-resources-plugin to statically generate skinning resources
How to upload and deploy your application
Detailed steps and links to get your own version of the RichFaces Showcase running
Information on our RichFaces GAE archetype so you don't have to start from scratch on a new application
[Project Site] [Downloads] [JIRA] [User Forums] [Design Forums] [RichFaces Twitter]
RichFaces 4.0.0.CR1 is here!! You can get the 4.0 candidate release distribution at our project site's download page, or if you are using maven you can follow our: How to add RichFaces 4.X to Maven Based Project wiki page.
We are excited about this release as it looks like the only CR release that will be needed before we release 4.0.0.Final. We still need your feedback, to help run it through its paces. As I've said before CR can also stand for Community Required when you are talking about an open source projects. If you have any problems, or run into any issues with the release please let us know over on the User Forums.
If all goes according to plan look for the final release at the end of this month!! It has been a long haul, but the project team, and community have just been fantastic!! We are almost there and to give back to our community please remember to vote for the RichFaces contributors for the JBoss Recognition Awards!!
This has been a busy phase of stabilization, clean up, and fixing. We are obviously not adding new components in this phase, but we have piled on the polish. Many of the issues found were from the community and that is greatly appreciated! I've included a summary below of the major items addressed in CR1. As usual you can checkout all the details in the Jira Release Notes.
Greatly stabilized the Client Side Validation (CSV) feature, and message components.
MyFaces support was also improved, and switched to it for some of our demo applications
Our RichFaces Showcase demo got a new design and added new demos! Check out the readme.txt in the distribution for more.
Dependencies were updated to use latest versions: JQuery 1.5.1, MyFaces 2.0.4, Mojara 2.0.4, Atmosphere 0.6.4.
The Push component was polished. Look for a blog on this soon
Our RichFaces 3.X - 4.X migration guide has moved to the wiki for quicker updates, and with new information!
All of our components had work done on them, but specifically our switchable panels, and panels menus are much improved.
Our IDE support via our taglib files is also nearly complete!
We should be less than a month away from the release of RichFaces 4.0.0.Final!! We're working on minor clean up jira's and reviewing any issues you guys bring up, but CR1 is basically it.
It is more critical than ever that if you find an issue, have any comments or ideas please let us know through our forums, or our project jira. See our Project Calendar and the Meeting Information page for more details, agendas, and minutes.
[Project Site] [Downloads] [JIRA] [User Forums] [Design Forums] [RichFaces Twitter]
The RichFaces team has just released 4.0.0.Milestone 6! You can get the 4.0.0.M6 distribution at our project site's download page, or if you are using maven you can follow our: How to add RichFaces 4.X to Maven Based Project wiki page.
I know I said last release that M5 was going to be the last milestone. After the M5 release it became apparent that what we wanted to call our Candidate Release 1 (CR1) was not where it needed to be. So instead we reviewed the remaining issues and decided to have one more Milestone.
The good news is that after our review and the great work put into M6, we believe only a single CR release will be needed to catch anything we missed. This means our plans for releasing 4.0.0.Final have only adjusted about a week (late March).
So you can image there was a lot updated and finalized in M6. I've included a summary below of the major items addressed in M6. As usual you can checkout all the details in the Jira Release Notes.
Client side validation feature is ready to go!! This includes complete client side implementations of nearly all the standard JSF and JSR-303 (bean validation) validators! This is a huge feature, but easy to use with the <rich:validator> behavior! Check out the RichFaces Showcase example, and keep an eye out for a complete how to blog soon!
ObjectValidation is also completed in M6! This allows you to validate complete objects with cross field validation using bean validation and the <rich:graphValidator> component.
The core Ajax framework has also be updated to support ignoreDupResponce feature! Combine this with the advanced queueing in RichFaces and you have some great tools to optimize you application.
The client side API for the various components has been stabilized, and will be fully documented in the component reference guide shortly!
We've also improved the functionality of the CDK, and continued stabilization work for our core, and migrated components!
Our RichFaces Showcase demo has also been updated with new components, and features. Check out the readme.txt in the distribution for more.
I've said it before, but we are lucky to have such a fantastic community! We've seen a huge impact from people trying out the 4.0.0 releases and letting us know what works and what does not. All I can say is keep it up - we are almost to Final!!
I would like to call out a couple of users that have made specific contributions:
Milestone 6 really is our final Milestone release for 4.0.0 :-) CR1 is already going great, and our code freeze is coming up shortly. We are hopeful that only a single CR release will be required, and it is looking good so far.
As always if you find an issue, have any comments or ideas please let us know through our forums, or our project jira. See our Project Calendar and the Meeting Information page for more details, agendas, and minutes.
[Project Site] [Downloads] [JIRA] [User Forums] [Design Forums] [RichFaces Twitter]
Some people have wondered why CDI requires an explicit @Named annotation before a bean can be accessed using EL? Why not just give all beans names by default?
Well, the reason is that EL has a single flat namespace. There's no notion of qualified names in EL. Experience in the JSF community is that avoiding duplicate names is harder than it looks, especially when the application includes multiple modules maintained by different teams. Remember that not all CDI beans are intended to form part of the user interface layer. A Java EE 6 application might include modules defining an independent business layer, whose beans should always be accessed via typesafe dependency injection instead of non-typesafe EL names. Beans in these modules should not have EL names, in order to avoid polluting the namespace of the UI layer.
Still, the combination @Named @RequestScoped is going to be super-common in JSF applications. So CDI includes a built-in stereotype that encapsulates these defaults. The @Model stereotype refers to the M role in the MVC pattern. We recommend that all JSF user-interface-oriented beans be annotated @Model to both save a little typing (one annotation instead of two), and, more importantly, to make clear their architectural role in the system.
Indeed, even when you have a UI model bean that's not @RequestScoped, I recommend annotating it @ConversationScoped @Model rather than @Named @ConversationScoped. The two options have the same functional effect, but the first combination communicates more information to someone reading your code later, and makes it easy to quickly search for all UI model beans.
(Of course, if, for whatever reason, you don't like @Model, you can always define your own stereotype to fulfil a similar purpose. The CDI container doesn't treat @Model in any special way.)
The RichFaces team has just released the final milestone release for 4.0 - 4.0.0.Milestone5!! With this release we've again added more components, and improved the stability. Now we move on into the Candidate Release (CR) phase where our focus turns completely to bug fixing, integration, and polish working towards the 4.0.0.Final release.
You can get the 4.0.0.M5 distribution at our project site's download page, or if you are using maven you can follow our: How to add RichFaces 4.X to Maven Based Project wiki page.
As always we are hard at work on the next release - 4.0.0.CR1. This will be released in early February. For all the latest information and details on 4.0 check out the RichFaces 4.0 Release Center. We are planning to have a 4.0.0.CR2 release as well, quickly followed by 4.0.0.Final.
Below is a summary of the main items we've worked on for M5, and you can review the complete list in our Jira Release Notes
New components such as fileUpload, panelMenu, toolbar, drag'n'drop, and dropDownMenu!!
Added more advanced features to other components like calendar, and tree.
Client side validation is nearly ready for primetime! Server side functionality is complete, and the core client side is nearly ready. Ajax fallback support is already there, and as client side validators are integrated they will transparently begin to function. The CR1 release will have the final version of client side validation!
We've also improved the functionality of the CDK, and continued stabilization work for our core, and migrated components!
Our RichFaces Showcase demo has also been updated with new components, and features.
We would be happy if you can give this release a try, and let us know how it goes. The good, the bad, and the bugs….
We're very lucky to have a fantastic community, and we've already seen a lot of users using and commenting on 4.0!! This is so critical to open source projects, and especially during the CR phase. In order to get 4.0.0.Final stabilized and ready to go we need everyone to take these later milestone releases for a spin. Believe me, this type of feedback makes all the difference!!!
Milestone 5 is the last milestone release for the RichFaces 4.0!! This means we are moving into full fledged hardening mode for the CR releases. For a complete list of jira's planned see our CR1 Jira page.
As always if you find an issue, have any comments or ideas please let us know through our forums, or our project jira. See our Project Calendar and the Meeting Information page for more details, agendas, and minutes.
[Project Site] [Downloads] [JIRA] [User Forums] [Design Forums] [RichFaces Twitter]