Some of the Hibernate team members all gather together next week in Paris.
If you are around, come join us for a Questions & Answers session at the ParisJUG. It's Tuesday December 2nd 2015 at 19:30. We will discuss anything Hibernate, no slide, simply come with your questions on:
Hibernate ORM

Hibernate OGM

Hibernate Search

Hibernate Validator / Bean Validation

Persistence

past, present, future

…​
I am ending my day totally exhausted but happy. Today we organised Red Hat 4 Kids in the Red Hat France office.
Every year at Red Hat, we organise a Red Hat Week to celebrate our culture. And in good open source community way, each local office expresses how it pleases this event. This year, I proposed to do a Devoxx4Kids for the children of French Red Hatters.
Red Hat 4 Kids (aka a copy paste of Devoxx 4 Kids) initiates children from 6 to 12+ to the notion of programming. Sharing our knowledge to teach them what daddy or mummy does. Sounds cool.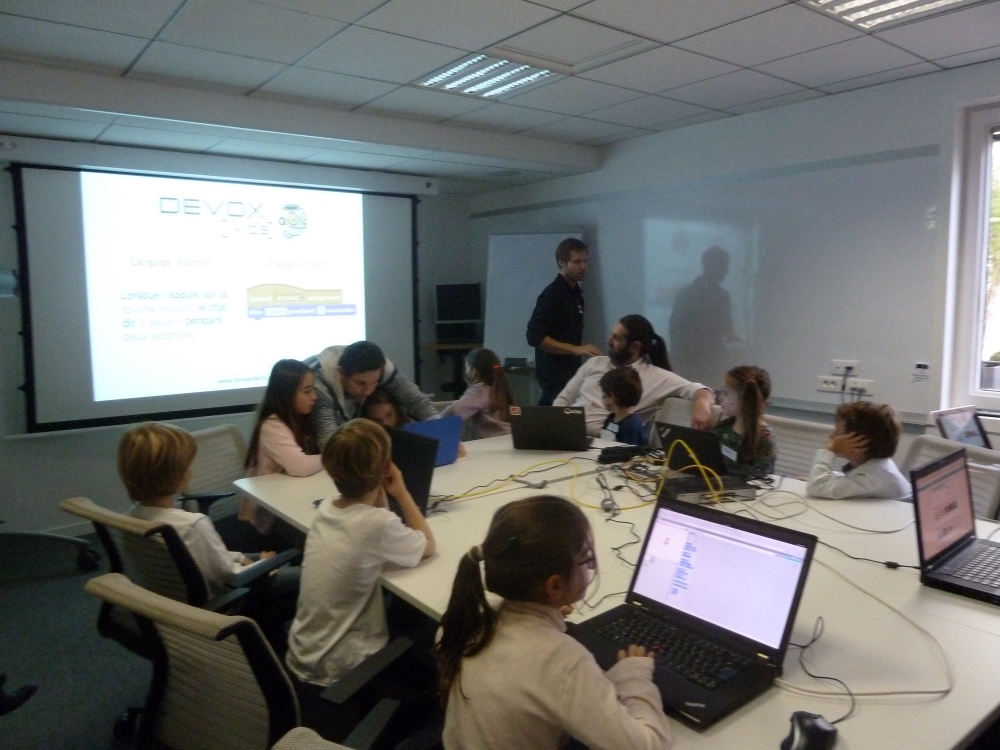 I knew it was doable since the awesome Devoxx4Kids team has successfully declined these events around the world. But my engineering spider-senses told me it would be quite a humongous task. I was right but it's one of those projects where you need to jump first and think later.
What did we do?
For the 6 to 10 years old boys and girls, we have done a Scratch workshop. Scratch is awesome, it has all the basics of programming: blocks, loops, conditions, events, event sharing, etc…​ Here, not need to prepare much, explain the basics and let the kids go (see below).
For the 10+ kids, we have done the Arduino workshop: programming electronics for the win :) We have reused the Devoxx4Kids one verbatim.
What are the challenges?
You need to prepare everything material wise

We installed a fresh Fedora 22 on all laptops to get everything set up the same: this really helped as we did not have to fight different environments. To be safe, we used ethernet and not WiFi: some WiFi routers don't enjoy too many laptops at once.

Don't go too long

For the 6-10 years old, they started to slowly drift after one hour. Don't go over 1h30 per workshops and do breaks between them. For the 10+, they actullally went beyond our 1h30 and chose coding over cakes: success!

Limit the introduction and slides as much as possible

Developers don't like slides. It turns out kids disregard them after 4 mins top. I had to cut the presentation quickly and instead…​

Do customized assistance

Show them by pair-kid-programming how to do the basic things and let them do what they want: help them achieve their goal: story, adventure, games etc…​ One grown up for one to two laptops, two kids per laptops. Max. They will be much more engaged.
Special thanks
It's quite a special feeling to see a good chunk of the kids being that engaged, asking tougher and tougher questions over time and preferring coding to cakes.
I have many people to thank for this project. Hopefully I won't forget too many of them:
the Devoxx4Kids team for putting their workshop in open source

Audrey and Arun from Devoxx4Kids for giving me customized advice and reassuring me along the way

the Red Hat French facilities team for saying yes to this project and putting up with all the material challenges (room size, power outlets, laptop hunt, mouse chasing, etc.)

the local Red Hat techies for gathering the hardware, installing the machines, testing everything and helping out during the workshops

last be not least, the Aldebaran team for being part of the fun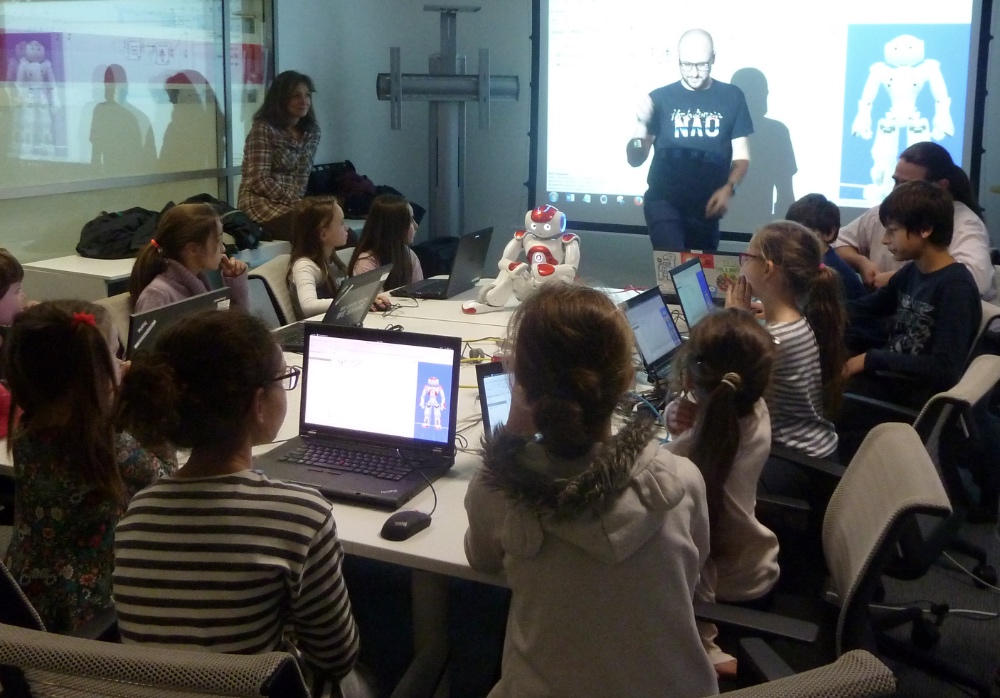 Sanne is going to do a virtual JBoss User Group session Tuesday July 14th at 6PM BST / 5PM UTC / 1PM EDT / 10 AM PDT. He is going to talk about Lucene in Java EE.
He will also describe some projects dear to our heart. If you want to know what Hibernate Search, Infinispan bring to the Lucene table and how they use Lucene internally, that's the event to be in!
Apache Lucene is the de-facto standard open source library for Java developers to implement full-text-search capabilities.

While it's thriving in its field, it is rarely mentioned in the scope of Java EE development.

In this talk we will see for which features many developers love Lucene, make some concrete examples of common problems it elegantly solves, and see some best practices about using it in a Java EE stack.

Finally we'll see how some popular OSS projects such as Hibernate ORM (JPA provider), WildFly (Java EE runtime) and Infinispan (in-memory datagrid, JCache implementor) actually provide great Lucene integration capabilities.
If you are interested, get some more info on Meetup and enlist.
Célébrons l'open source et le partage (English version below).
Devoxx France vous offre une place: je ne suis que le messager :) Elle sera gagnée par l'un d'entre vous. La règle est simple.
Contribuer à un projet open source (code, doc, etc) entre maintenant et dimanche 29 mars 2015 et tweeter le lien vers la pull request ou le patch à @Hibernate.
Quel projet ? N'importe pourvu que la licence soit open source. Donc pas limité à Hibernate.
Comment sera choisi le vainqueur ? La contribution que je préfère sera choisie. Super bonus si c'est votre première contribution à ce projet : il faut que ça brasse :)
Mais si on contribue à un projet Red Hat, on a plus de chance ? Non, tous les projets open source sont (libres et) égaux.
Je suis employé Red Hat, je peux gagner? Non. Contacte-moi directement.
Et ? C'est tout.
Devoxx France se déroule du 8 au 10 avril à Paris (Palais des Congrès). J'y parlerai entre autre des sujets Object Mappers dans le NoSQL et une BoF Hibernate.
Aller au boulot !
Devoxx France is giving away a free pass through me. I am just the messenger :) One of you will win it. The rule is simple.
Contribute to an open source project (code, doc, etc) between now and Sunday evening 29th of March 2015 and tweet the link to the pull request or the patch to @Hibernate.
Which project? Any project released under an open source license. Not limited to Hibernate.
How will you chose the winner? The contribution I prefer will be chosen. Extra bonus if that's your first contribution on that project: let's exchange!
But if I contribute to a Red Hat project, I have a better chance? No, all open source projects are equals.
I am a Red Hat employee, can I win? No. Contact me directly instead.
Devoxx France happens in Paris from the 8th to the 10th of April. I will be speaking about a few topics including Object Mappers and NoSQL and an Hibernate BoF.
Now go contribute!
PS légal: cette place est offerte par Devoxx France et Emmanuel Bernard à titre personnel, pas par Red Hat. Bref, je fais ce que je veux, avec mes cheveux. Legal PS: this pass if given away by Devoxx France and Emmanuel Bernard as an individual and free human being, not Red Hat.
If you are around in London the evening of the 14th of January, I would love to see you at our monthly JBUG event.
We'll start the evening with an introduction to Hibernate Search, including basics of concepts from Apache Lucene, and then discuss the novelties you'll find in Hibernate Search 5.0, before discussing the more advanced features. That should be interesting both for those of you already familiar with the technology, and for those who never heard of it and are now wondering how and if it could help you.
The event will be at Skills Matters, organized by our partner C2B2, and after the demo we'll have plenty of time for pizza, beers and face to face discussions about all things Hibernate.
Please find all venue details on meetup.com and don't forget to register here.
We'll have a full day dedicated to developers in London the 5th of December. It's a free event with an high concentration of technical people and passionate developers.
I'll introduce you to several different integration strategies to make the most of both Hibernate and Infinispan, but I'll also be available to discuss technical questions for either project.
There are many interesting talks, covering cool subjects like the latest news in BRMS space, JBoss Fuse & Camel, OpenShift, Arquillian and JBoss Tools, JBoss performance tuning, HTML5 built on JBoss... the full agenda can be found here.
As always myself and all my colleagues look forward for interactive sessions and lots of open discussions. Feel free to reach out to discuss anything related to the coolest technologies, in the sessions or after the talks.
If you can make it, please register, help me to advertise the event, and see you there.
Sanne
Emmanuel is headed to JavaOne, where you can see his hands-on presentations: live on stage coding showing the latest features of Hibernate Search and Bean Validation. It's a unique experience to see how easy it is to get started with these technologies, and also what powerful features they can provide you in just one hour coding.
Full link: Geolocalized Search in Java EE 7 in 59 Minutes with Hibernate Search [BOF3307]
Abstract:
Search is passé; we need Foursquare-style location and should let people search in specific vicinities. And no, you don't have to leave Java or JavaEE to make this a breeze. This session shows you how to boost your existing applications by easily adding full-text search, spatial search, faceting, and even all at the same time! Faceted results return the list of results as well as their count by category—price range, brand, colour, and so on. This session takes an existing JavaEE7–based application and adds search services via Hibernate Search. It favours code and step-by-step IDE work over slides.
Presenter: Emmanuel Bernard
Location Parc 55 - Mission
Time: Monday, Sep 23 7:30 PM - 8:15 PM
Full link: Bean Validation: What Does It Look Like in Practice? [CON3368]
Abstract:
Java EE 7 is a very rich environment. This session takes you on a practical code-driven Bean Validation walk-through: how to use it in your applications and what not to do—all with an example-driven approach. The presentation gradually adds constraints and validations to an existing application and examines many features, both old and new, including constraint declaration, custom constraint, method validation, EL-based message interpolation, JAX-RS integration, and many more. It spends as much time as possible in the IDE. No previous knowledge of Bean Validation is required.
Presenter: Emmanuel Bernard
Location: Parc 55 - Cyril Magnin II/III
Time: Wednesday, Sep 25 11:30 AM - 12:30 PM
There are lots of speakers from the JBoss community at JavaOne, see the dedicated website!
Tomorrow the London Java Community (LJC) meets for the monthly Meet a Project night. I'll be there again, this time to explain how to get started contributing to Hibernate Search and answer all the questions you might have about the mysterious world of open source professionals.
I don't expect to need to explain what Hibernate Search is to the readers of this blog, but to clarify what it means in terms of CV and career opportunities, you get to learn and contribute to two very popular open source projects in one shot: Apache Lucene and Hibernate. Technically it's maintained under the Hibernate umbrella but you get very close to Lucene/Solr as well. And there are other cool projects being presented too: we do quick round-tables, so you'll get to talk face to face with many developers.
Anyone is welcome and Red Hat kindly sponsors with some refreshments, so you have an excuse to come and say hi even if you think you're not going to contribute any code: your suggestions and complaints over a drink are very welcome too. Free as in Beer is getting a new meaning:-)
To register and find more details look at the Meetup event page.
We're in Boston for JUDCon and Red Hat Summit; Emmanuel is on stage coding live a nice new demo using Hibernate Search to combine full-text with geographic filtering. It will be contributed to JDF quickstarts but you can already get the sources.
That's right it's released and available as usual from Sourceforge or via Maven, and will be available in WFK 2.3 with professional support. Let's recap what is most interesting in this release:
The JGroups backend was refactored and also introduced an option to use it as a synchronous backend.
It is now possible to not include the Hibernate Search jars in your application but add it as a set of Modules to the application server. Details for this deployment can be found in the new chapter in the reference documentation. Of course you can still include the jars in your applications if you prefer that.
While fixing a bug in the NRT backend we also found an opportunity for a great performance improvement. I posted some figures on a previous blog post.
The API was made more consistent, the documentation got some love: no big highlights but we got some nice polishing all around.
All dependencies where updated; in particular we took care to be compatible with latest JBoss EAP 6.1 release and its associated versions of Infinispan and JGroups.
The complete list of changes can be found on the JIRA release notes.
on the forums or on the mailing list, or join us for a chat on IRC
send us an email or a tweet to let us know what cool things you're doing with it!
Patches for Hibernate Search 4.4 have been merged already, an partially on 5.0 which is finally going to support Lucene 4. More details are shared on The Roadmap.
If you travel in the JBoss universe you should be aware that Red Hat Summit and JUDCon are taking place in Boston between June 10th and June 14th. If you want to meet the persons behind the code, that's a pretty good deal.
Sanne, Emmanuel (that's me), Gavin and Stef are going to give various talks on various Hibernate projects and on Ceylon.
Monday June 10th at JUDCon, Stef, Gavin and I are doing a full day workshop on Ceylon. Come with your laptop and code with us. More info.
Tuesday June 11th at JUDCon I will be adding full-text search, faceting and geolocation queries to an application live. I am working hard on this code and not at all on my slides, this should be quite interesting. It is based of the famous TicketMonster app. More info.
At Red Hat Summit Thursday June 13th, Sanne will talk about the use cases that really benefit from mixing Infinispan / JBoss Data Grid with the Hibernate suite of projects (Hibernate ORM, Hibernate Search and Hibernate OGM). You will see the big work we did to make 1+1=3 with these projects. More info.
At Red Hat Summit Wednesday June 12th, I will be giving an overview of what's new in the Hibernate sphere (ORM, Search, OGM, Envers, Validator). A good one to keep your knowledge fresh or if you believe that Hibernate is a JPA compliant ORM and that's it :) More info.
Anyways, feel free to ping us if you are there, we accept chats as long as there is beer, whisky or any kind of good technical content :)