After the release of Hibernate Core 3.3.0.GA last week, we are releasing aligned versions of its sister projects. These releases are primarily ensuring that everything works property on Core 3.3. They also improved a few other things:
use of slf4j as the logging facade eliminating classloader headaches
all projects are now deployed in the JBoss Maven repository under org/hibernate with their proper pom.xml files. Hopefully, the dark ages of Hibernate dependencies for Maven are behind us (we are still looking at pushing the JBoss repository changes to the central Maven one but it takes longer than expected: check the Hibernate development mailing list for more info)
the build system is more modular and lets you work on each project independently making contributions much easier
the regular set of bug fixes (check the change logs for more details)
The following releases are now available:
* A small glitch slipped through when we released Hibernate Core. Be sure to use Hibernate Validator 3.1.0.CR2 or above when using Core 3.3. We wanted to take our time fixing this, Validator CR2 will become GA in a week if no problem pops up.
All projects can be downloaded here.
Note that Hibernate Search 3.1.0.Beta1 is already aligned with Hibernate Core 3.3.0.GA.
Enjoy
3.3.0.GA got released the other day with an uncaught problem. A public method got removed from some of the events (specifically PreInsertEvent and PreUpdateEvent) which is causing problems with Hibernate Validator and which will probably cause problems for any applications utilizing custom listeners for those events.
Therefore, later today I will be releasing 3.3.0.SP1 to correct that oversight. I apologize for any inconveniences.
The SP1 release has been done and is available as either the full distribution from SourceForge or as artifacts from the JBoss Maven repository.
I will be talking about Web Beans at JSF.One September 4-6 in Washington and QCon San Francisco 2008 about Hibernate and scalability.
The Web Bean talk is an introduction to the elegant loosely coupled strongly typed component model that Web Beans introduces. After a brief intro, I will walk through examples to demonstrate how each concept is used in practice. Depending on how advanced the reference implementation is, I might try to make some of these live.
The second talk will cover Hibernate and Scalability. I will co-present with Max Ross from Google (one of the engineers behind Hibernate Shards). We will cover various subjects:
stateless session
how Software as a Service providers scale Hibernate in their platforms
some of the patterns that ensure better scalability
Hibernate Shards and how to scale to many DBs
Hibernate Search and how to save your DBA's butt
Hope to see you there!
Hibernate 3.3.0.GA has been released. A big thanks to everyone who helped us get here.
A few changes from 3.2 worth noting:
Migration to a Maven-based build
Splitting of the project into modular jars (here I mean what Maven calls modules). This allows users to easily see and minimize dependencies.
Redesigned second-level caching SPI
Integration with JBossCache 2.x as a second level cache provider.
I'll be following up with more detailed blogs about some of the specific points.
You can download the full distribution from SourceForge or make use of the Maven artifacts from the JBoss Maven repository.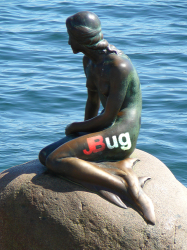 On the 28th August, Pete and I will be presenting at the opening of the first JBoss User Group in Denmark.
We will be talking about JBoss Seam, Web Beans and JBoss Tools/Developer Studio.
You can see the full schedule at jbug.dk (in Danish).
Kenneth Christensen and Søren Pedersen who is organizing the event tells me that they only have five seats left so hurry up if you want in on the action.
Vi Ses!
DZone just posted an interview with me about Seam.
We spoke for a few minutes about Seam, and some of the features of Seam 2. Then we moved on to talk about the upcoming Seam 2.1, how it will support other view layers, and where JSF is going. Finally we spent a few minutes talking about Web Beans, and what it will mean for Seam users.
The site has both a transcript, and the audio.
Just waiting for my flight back to Sweden after being invited to present Hibernate Search at the monthly JBUG Munich meeting. I was pleasantly suprised that despite school holidays a respectable crowd showed up for the meeting. The feedback was throughout positiv and hopefully there are now a few new Search convertees spreading the word in Munich.
One question which popped up was whether the performance of Hibernate Search is somehow quantifiable. Of course the same applies here for Hibernate Search as for Core (see http://www.hibernate.org/15.html) - each application is different and it is hard to find a fair and compareable benchmark. I wonder though whether some specific benchmarks similar to the ones posted on the Lucene homepage would make sense.
Last but not least - the highlight of the evening - German wheat beer after the presentation. That alone was worth the trip ;-)
--Hardy
Without much ado I am happy to announce the following releases:
commons-annotations 3.1.0.CR2
annotations 3.4.0.CR2
entitymanager 3.4.0.CR2
Being maintenance releases there is not much to say about them. Changes to commons-annotations and entitymanager are minimal with most work being put into bug fixes in Annotations. Check out the change logs if you want to know more.
BTW, all these new releases are aligned with Steve's 3.3.0.CR2 release of Core.